---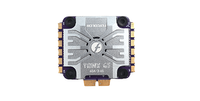 The Flycolor X-Cross Series ESC's are on a fast rise to the top, tons of dependability and power. Fast Response with less lag.


Flycolor Trinx G5 60A 3-6S BLHeli32 4-in-1 ESC
The Flycolor Trinx G5 60A 4-in-1 ESC was made to satisfy power-hungry quads. With 60A of continuous current support, you will have plenty of headroom to push your rig to the limit. The Burst current is 70 amps!! The high powered MCU and Raptor 5 firmware is really flexing it's muscles on this set up!






Model – Trinx G5 60A 4in 1
Battery – 3-6s
Con. Current – 60A
Burst Current(10S) – 70A
BEC – No
Weight – 19.6
Size – 45x41x8.3mm
Firmware – Flycolor_Raptor_5
Typical Applications
Product features