---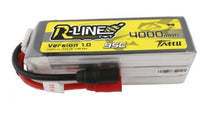 Tattu R-Line 4000mAh 95C 6S1P LiPo battery pack What is R-Line R-Line is a brand new product line specifically designed for professional FPV racing competitions. It's the selling version of Toppilot batteries. It's also a subsidiary of the Tattu brand. It's got higher capacity, lower internal resistance and lower landing temperatures. They are more powerful than any graphene battery. Generally, R-Line batteries have the same specs as our popular Toppilot batteries. There are different R-Line versions for the needs of different FPV racing competitions
Features:
- High quality, reliable power
- Stable automatic stacking technology enables single-cell capacities of 4000mAh
- Higher capacity than comparable size packs
- Very high C rate. Designed for professional FPV racing
- No memory effect
- Local after-sales service(located in Dublin, CA)
Specifications:
- Minimum Capacity: 4000mAh
- Configuration: 6S1P / 22.2V / 6Cells
- Discharge Rate: 95C
- Max Burst discharge Rate: 190C
- Net Weight(±20g): 687g
- Dimensions: 139mm Length x 43mm Width x 53mm Height
- Charge Plug: JST-XH
- Discharge Plug: AS150+AS150
Our Advantage:
1.Your orders will be dispatched via FedEx or UPS from the USA directly.
2.Fast shipping and excellent local after-sale service guaranteed in the USA.
3.Service-priority in the online shop, like the long warranty period and the lower price.
4.Energy Density:Specially adapted to each UAV type and RC car/boat/heli type. Very High according to capacity/weight. In fact, we are specialists in High Power Lipo Batteries. It is our unique technology, the highest power of our battery is 100C. Another technology is our batteries are able to be stably discharged simultaneously.
5.Low IR: Provides stable voltage until the end of your mission.
6.Safety: Gens Ace and its  partners fulfill the ISO9001, ISO14001, standards.
7.See the battery instruction to the link:Lipo Battery Guide.
WARNING: This product can expose you to chemicals including nickel, which is known to the State of California to cause cancer and birth defects or other reproductive harm. For more information, go to www.P65Warnings.ca.gov.